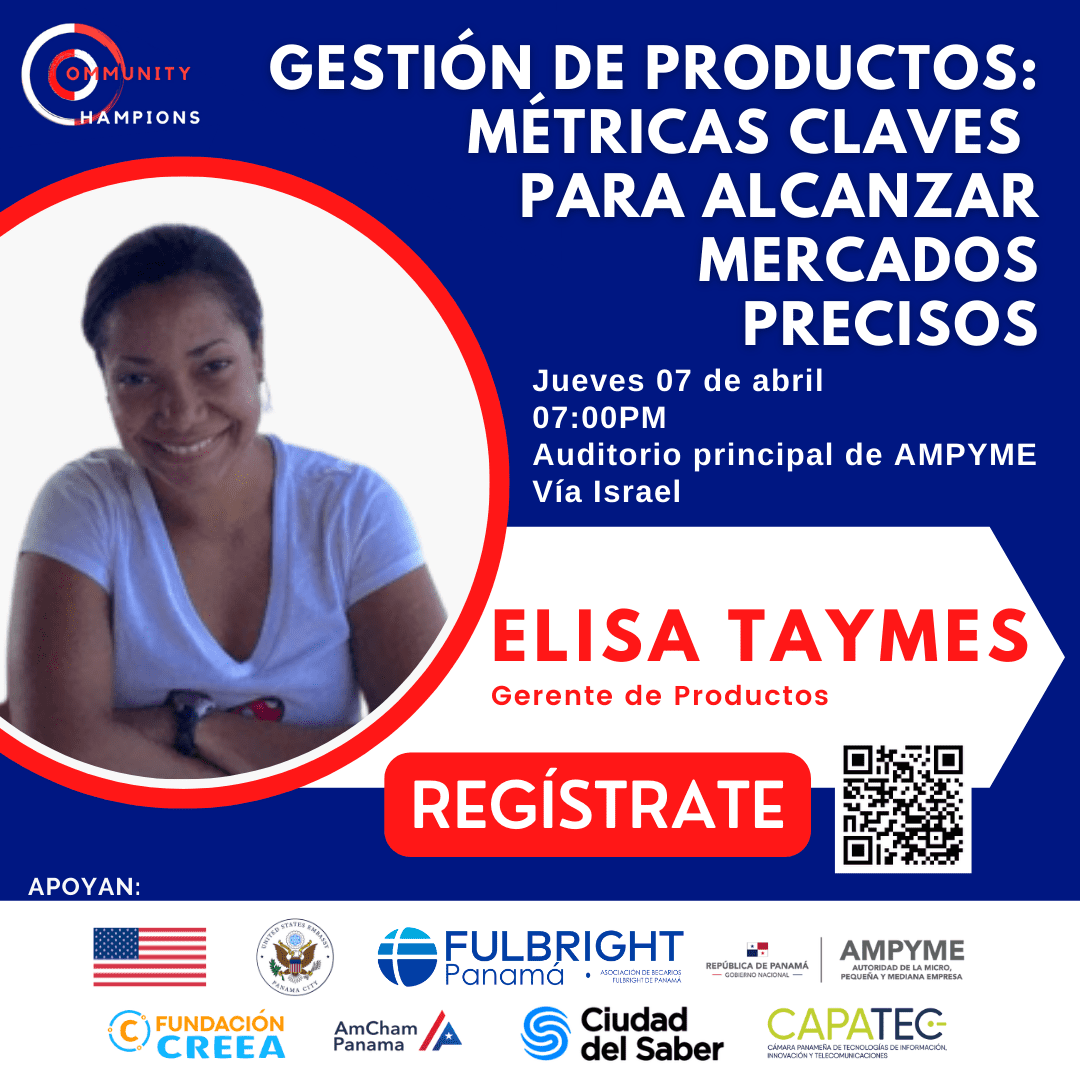 April 7, 2022 @ 7:00 pm - 10:00 pm
Name of conference : Métricas claves para alcanzar mercados precisos.
Host:
Embajada de Los Estados Unidos, Panama
Fulbright Panamá.
Selina, CASCO Viejo
AMPYME
Fundación CREEA
For more information on this event click here to visit the Community Champions official site.
April 7, 2022, 7:00 pm CST, Panamá.
In case you are not in Panama's time zone you can click here and find your time zone.
Gestión de Productos: Métricas Claves para Alcanzar Mercados Precisos, con la ingeniera Elisa Taymes, Gerente de Productos y Gerente de Proyectos. Dirigido a gerentes de innovación, producción, ventas e ingeniería, CEOs, yestrategistas, entre otros.
Elisa tiene una trayectoria profesional y académica impecable. Graduada con maestrías en Gestión de Sistemas de Información de la Universidad Carnegie Mellon y Gestión de Proyectos, la ingeniera Taymes se ha desempeñado en posiciones claves para las empresas en que ha trabajado. Tiene una gran capacidad de implementar estrategias de innovación de forma ágil y de liderar equipos multidisciplinarios y progresivos.
Diseñar y desarrollar productos para que lleguen a los mercados precisos, aquellos donde generen las ganancias para la empresa en sí es el meollo del Product Market Fit y de una estrategia de innovación. Durante el proceso, el Gerente de Productos se convierte en el enlace entre los clientes y la empresa, es el que traduce las necesidades y los dolores del cliente en especificaciones de desarrollo. Desde su departamento se genera el product roadmap (hoja de ruta de productos) y los experimentos relacionados y se recolectan los datos que le dan sentido, una y otra vez, a lo que se está desarrollando o produciendo para el mercado identificado, así como lo que se va a desarrollar
en el futuro.