Stop trying to sell Start Delighting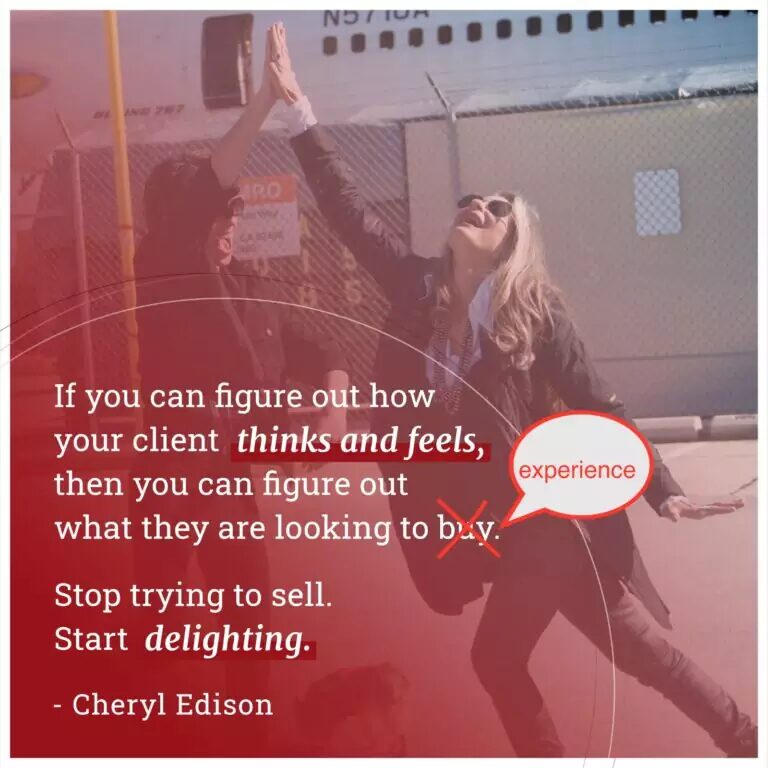 Are you tired of working hard to convince potential clients to buy your products and services?
I hear you! It can be incredibly tiresome to push, push, push all the reasons why a client should buy through each step of a sales funnel.
I'm writing now to give you some quick pointers for how to stop working so hard and start enjoying more sales with more ease. The key is to adopt the foundational mindset of entrepreneurs:
1 ) DEFINE – tightly with who, what, why
2 ) DESCRIBE – offer in terms your audience can relate to
3 ) WELCOME – by creating ease to buy (really!)
4 ) TEST – and truly embrace reactions to your offer
5 ) DELIGHT – by refining and cycling again through steps 1,2,3,4,5.
DEFINE!
You have heard too many times that your product or service is not truly for "everyone." And, of course it is true: the more tightly you can define who will delight in your company's offer, the bigger the business opportunity you are creating. Know this is true and test it! Who is out there looking for what you offer? What have they been making do with up until now, suffering a bit each day? Why, precisely, is what you are offering better suited to the experience that would actually move them in the direction they intend to go?
Yes, I realize, I am describing a bit of mind-reading here. However, that is actually the core skill – to listen to what your potential customer is saying with all of your being so that actually you can read their thoughts and know, better than they do – sometimes – what would truly delight!
This reminds me of a story I'll have to share another time: Thankful Thursdays. That was the name of an event we launched as we were building community in a big, empty building. Nobody there knew they wanted a Thankful Thursday. The few companies leasing space didn't actually realize they wanted to get together every week to exchange referrals, eat pizza and drink a beer. This was way before the cliche! However, once we tried it (oh by the way cakes and coffee did not work as well!) hundreds of people would show up each week, and along with many other changes we tested, we saw how our community of startups blossomed and thrived. We went from a 1 million square foot property in foreclosure to expanding the borders of Silicon Valley, with the area's largest coworking – incubator/accelerator.
I will close here, for now, inviting you to think about how, exactly to describe your offer in words and visuals that appeal to the potential customers you are stepping towards. How to place the potential customer in the center of the conversation, listening, adjusting to their unspoken needs. The happier they
are, the more able you will be to build on that, "YES!" to have a stable, prosperous exchange of goods & services.
called a "profitable, scaleable business model."
Let's pick this up again next blog.
Until then, remember: now is the best time to grow your business.
What could you do in just one minute, to make a measurable difference?